Vegan Lentil Shepherd's Pie: Hearty and Wholesome Comfort ===
If you're looking for a hearty and wholesome comfort food that is both delicious and plant-based, then look no further than Vegan Lentil Shepherd's Pie. This delightful dish combines the rich flavors of lentils, vegetables, and mashed potatoes to create a satisfying meal that will leave you feeling nourished and content. Whether you follow a vegan lifestyle or simply want to incorporate more plant-based meals into your diet, this recipe is a must-try. Let's explore why Vegan Lentil Shepherd's Pie is the perfect choice for your next comforting meal.
Why Vegan Lentil Shepherd's Pie?
Vegan Lentil Shepherd's Pie offers numerous benefits that make it a desirable option for any individual, regardless of dietary preferences. First and foremost, it eliminates the need for animal-based products, making it suitable for vegans and vegetarians. By using lentils as the base instead of meat, this dish provides ample protein and fiber, which are essential for a healthy diet. Additionally, lentils are known for their minimal environmental impact compared to animal agriculture, making this recipe an eco-friendly choice.
Furthermore, Vegan Lentil Shepherd's Pie is a great way to incorporate more vegetables into your diet. The filling is packed with a variety of colorful and nutritious vegetables, such as carrots, peas, and onions. These ingredients not only add incredible flavor but also provide essential vitamins, minerals, and antioxidants that support overall health and well-being. With each bite, you'll be nourishing your body with a rainbow of nutrients.
Ingredients for a Wholesome Dish
To create a truly wholesome Vegan Lentil Shepherd's Pie, you'll need a handful of ingredients that are readily available in most kitchens. The star of the dish, of course, is the lentils. Opt for green or brown lentils, as they hold their shape well and provide a hearty texture. You'll also need an assortment of vegetables, including carrots, peas, onions, and garlic, to add depth of flavor and nutritional value.
Additionally, a flavorful sauce is crucial to bind everything together. Use vegetable broth, tomato paste, and a combination of herbs and spices, such as thyme, rosemary, and paprika, to infuse the filling with a savory taste. Lastly, top it all off with a generous layer of creamy mashed potatoes, made with dairy-free butter and plant-based milk, for the perfect finishing touch.
Step-by-Step Recipe for Delicious Comfort
Now that you have gathered all the necessary ingredients, it's time to dive into the step-by-step process of creating this delectable Vegan Lentil Shepherd's Pie. Follow these instructions, and you'll have a wholesome and comforting meal on your plate in no time.
Start by cooking the lentils according to the package instructions. Make sure to rinse them thoroughly beforehand.
In a large skillet, sauté onions and garlic until fragrant and translucent, then add carrots and peas. Cook until vegetables are tender.
Add the cooked lentils to the skillet, along with vegetable broth, tomato paste, and your desired herbs and spices. Let simmer until the mixture thickens slightly.
Meanwhile, prepare the mashed potatoes by boiling peeled and chopped potatoes until tender. Drain, then mash with dairy-free butter and plant-based milk until creamy and smooth.
Preheat the oven to 375°F (190°C). Transfer the lentil filling to a baking dish and spread the mashed potatoes evenly on top.
Bake for 25-30 minutes, or until the mashed potatoes turn golden and lightly crispy.
Remove from the oven and let cool for a few minutes before serving. This will allow the flavors to meld together and make slicing easier.
Serve the Vegan Lentil Shepherd's Pie hot, and enjoy the comfort and nourishment it provides.
By following these simple steps, you can create a delightful dish that will impress both vegans and non-vegans alike. The combination of hearty lentils, vibrant vegetables, and creamy mashed potatoes will make this Vegan Lentil Shepherd's Pie a family favorite in no time.
Vegan Lentil Shepherd's Pie is a comforting and wholesome option that proves you don't need meat or dairy to enjoy a hearty meal. It is a testament to the incredible flavors and textures that can be achieved with plant-based ingredients. By choosing this recipe, you are not only nourishing your body but also making a positive impact on your health and the planet.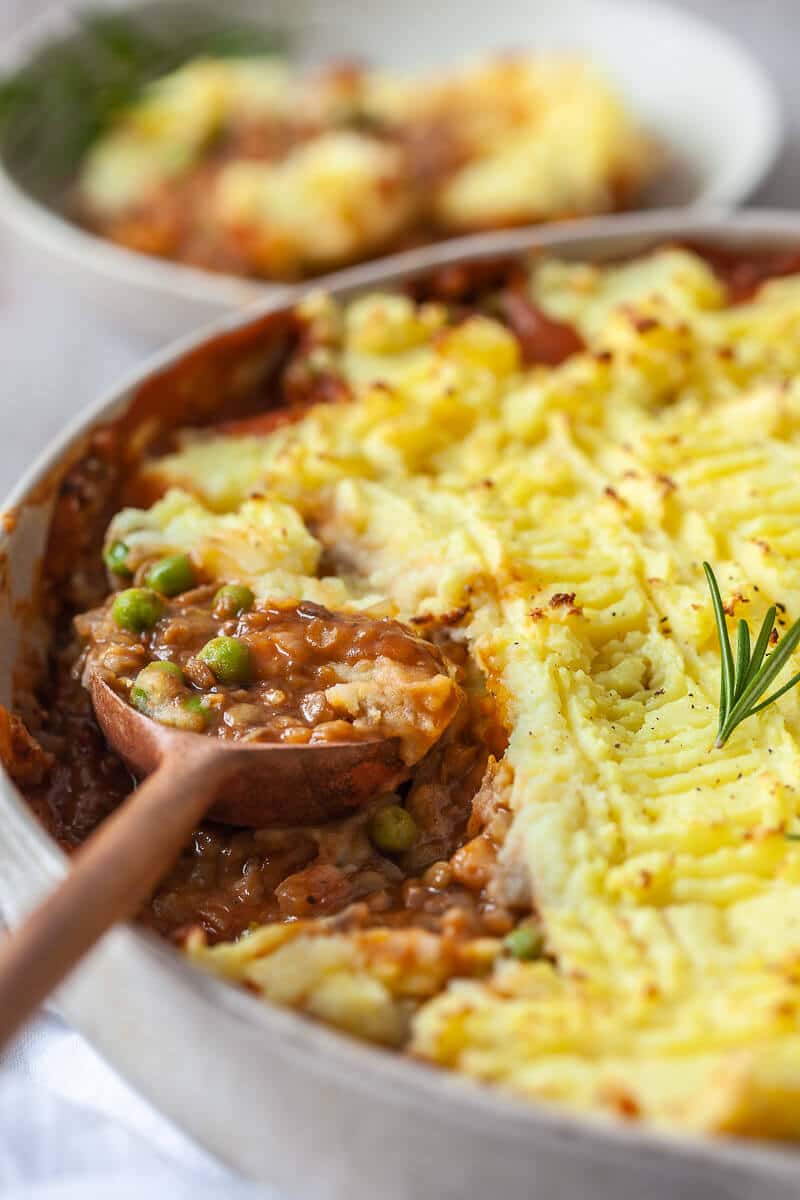 Preheat oven to 425 degrees F Place potatoes in a large pot of water just covering potatoes and bring to a boil cooking until fork tender approx 10 minutes Drain and return to the pot add the milk salt and garlic powder if using and mash with a potato masher Add more milk if needed and set asideBake in a 400 F oven for 20 minutes place a baking sheet on a lower rack to catch any spillovers then switch the oven to high broil and broil until the top of the Shepherds pie is lightly golden approx 10 to 15 mins Remove from the oven and allow to set for 15 to 25 minutes to setAssemble The Vegan Shepherds Pie Preheat your oven to 375F Transfer the lentil filling into an ovensafe baking dish 913 or 711 and smooth it out Spoon and carefully spread the mashed potatoes over the top Place the vegan
shepherds pie in the oven and bake for 2025 minutesMake the lentils Place the dried lentils in a pot on the stovetop with 3 cups of water Cover and cook for 15 minutes at a light simmer until the lentils are tender Drain off any excess water and set aside Step 2 Make the potato topping Add the peeled chopped potatoes to a large pot of water and bring to a boilInstructions Preheat oven to 400 Sort and wash lentils and set aside Heat a large pot and add olive oil Add onions and cook until soft then add garlic and cook until fragrantStep 1 Prepare the vegan mashed potato topping First peel and chop the potatoes into 1inch pieces and transfer them to a large pot of salted water Bring to a boil and then cook over medium heat for 15 minutes or until forktender Then drainPreheat the oven to 400F
Drain the water from the potatoes and parsnips Using a potato masher or fork mash the potatoes and parsnips together Add the vegan butter milk garlic powder and salt amp pepper to taste Add more milk or butter if desired for a smoother textureStep 4 Prepare Lentil Mixture Meanwhile in a large ovenproof skillet heat oil over mediumhigh heat Add onion squash mushrooms oregano salt paprika and thyme Cook stirring occasionally until the mushrooms release their juices and moisture has evaporated and the veggies start to brown 6 to 10 minutes
So, the next time you crave a cozy and satisfying meal, give Vegan Lentil Shepherd's Pie a try. You'll be rewarded with a delicious dish that brings comfort and warmth to your table.