Spicy Vegan Tofu Stir-Fry: A Satisfying Plant-Based Dinner
Are you looking for a delicious and fulfilling plant-based meal? Look no further than this spicy vegan tofu stir-fry! Packed with flavor and nutrients, this dish is a perfect option for a quick and easy weeknight dinner. Whether you are a vegan, vegetarian, or simply trying to incorporate more plant-based meals into your diet, this tofu stir-fry will leave you feeling satisfied and delighted. Let's dive into the details of how you can whip up this quick and flavorful dish!
Whip Up a Quick and Easy Weeknight Meal in No Time
Life can get hectic, and we often find ourselves short on time when it comes to preparing dinner. That's where this tofu stir-fry recipe comes to the rescue. With just a few simple ingredients and minimal preparation, you can have a mouthwatering meal on the table in no time. Tofu, a versatile and protein-packed ingredient, takes center stage in this stir-fry. Its ability to absorb flavors makes it the perfect candidate for a spicy dish that will satisfy your taste buds.
To get started, gather your ingredients: firm tofu, an assortment of colorful vegetables such as bell peppers, carrots, and broccoli, garlic, ginger, soy sauce, chili sauce, and a touch of maple syrup for a hint of sweetness. The key to a successful stir-fry is to have all your ingredients prepped and ready to go before you start cooking. Chop your vegetables, mince the garlic and ginger, and cube the tofu into bite-sized pieces. This way, you can have everything at your fingertips and ensure a seamless cooking process.
Once your ingredients are prepped, heat a large skillet or wok over medium-high heat. Add a splash of oil and toss in the tofu cubes. Allow them to cook for a few minutes until they turn golden brown and crispy on the outside. Remove the tofu from the pan and set it aside while you stir-fry the vegetables. This step ensures that the tofu maintains its texture and does not become mushy.
In the same skillet, add the minced garlic and ginger, sautéing them until fragrant. Then, toss in the vibrant vegetables. Stir-fry them for a few minutes until they are tender-crisp, retaining their beautiful colors and nutrients. Now it's time to add the sauce. Combine the soy sauce, chili sauce, and maple syrup in a small bowl, then pour it over the vegetables. Give everything a good stir, allowing the flavors to meld together. Finally, add the tofu back into the pan and toss everything together until the tofu is coated in the fragrant sauce.
Bursting with Flavors, this Tofu Stir-Fry Will Delight Your Palate
The combination of spices, sauces, and fresh vegetables creates a symphony of flavors that will have your taste buds dancing with delight. The tofu absorbs the rich and savory sauce, infusing each bite with a burst of umami goodness. The addition of chili sauce gives this stir-fry a kick that spice lovers will adore, while the touch of maple syrup balances it out with a subtle sweetness.
The crunchy and colorful vegetables provide a satisfying texture and vibrant appearance to the dish. The bell peppers add a pop of sweetness, the carrots bring a hint of earthiness, and the broccoli adds a fresh and crisp element. Together, they create a harmonious medley that complements the tofu perfectly.
Not only is this spicy vegan tofu stir-fry a treat for your taste buds, but it is also a wholesome and nutritious meal. Tofu is an excellent source of plant-based protein, making it a satisfying option for vegans and vegetarians. The vegetables provide an array of vitamins, minerals, and dietary fiber. By choosing whole and natural ingredients, you can nourish your body while indulging in a truly delicious meal.
So, the next time you are craving a quick and flavorful weeknight dinner, give this spicy vegan tofu stir-fry a try. With its ease of preparation and explosion of flavors, it is sure to become a favorite in your household. Enjoy the satisfaction of a plant-based meal that not only delights your palate but also nourishes your body. Embrace the joy of cooking and savor every bite of this delicious tofu stir-fry!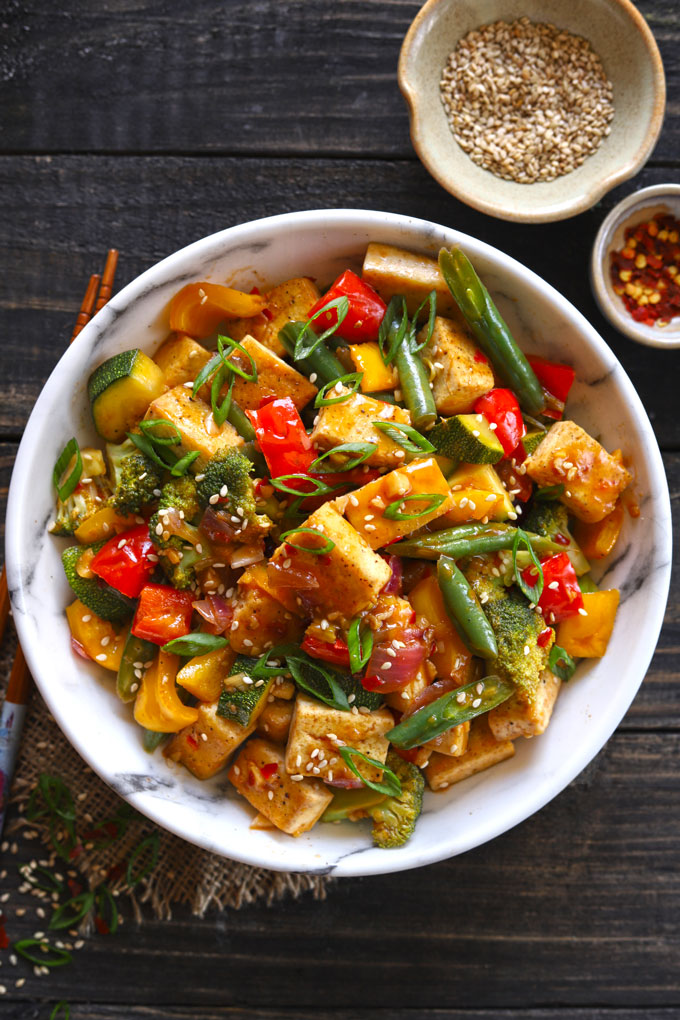 Why Because broccoli florets with all their nooks and crannies are the perfect vessel for sauce Lots and lots of sauce I loved the saucesoaked broccoli so much in fact that I would save them for the very end of my meal And that39s what has inspired this fabulous broccoli tofu stir fryWhile the tofu is pressing prepare your vegetables by chopping the baby corn the carrot spring onion and green bell pepper Slice the pressed tofu into cubes and then add to a frying pan with the olive oil and fry gently turning over the tofu until its nicely browned Add in all the chopped vegetables and fry for a minute then add in Add 3 teaspoons vegetable oil and sesame oil and heat until shimmering but not smoking Swirl the pan to coat with the oil Working in two batches add tofu to the pan in a single
layer Cook until golden brown about 2 to 3 minutes Flip over and cook the other side until golden browned another 2 to 3 minutesThis Weeknight Tofu Stir Fry with broccoli comes together in just 30 minutes and is perfect for those days when you feel too busy to cook something complicated This recipe is naturally vegan glutenfree and packed with protein and veggies for a healthy simple Dinner youll love Tofu broccoli stir fryCut the scallions into 1 inch pieces Make the stirfry slurry mixture Cook the tofu in a large wok or skillet Pour in slurry mixture ground pepper garlic and ginger Stir fry 3 minutes allowing the slurry to thicken Add in hot peppers and scallions and cook another 5 minutes or until the scallions are just softenedHow to Make This Recipe 1 Step Cut the red bell pepper and
the red onion into thin strips the zucchini into half moons and the carrots into slices Cut off both ends of the green beans Finely chop the garlic and the ginger Cut the broccoli into small florets 2 Step Cut the tofu into cubes 3Lao Gan Ma Spicy Chili Crisp adds crunchy garlicky spiciness to celery bell peppers garlic ginger and extra firm tofu in this quick vegan stir fry Course Main Course Cuisine Chineseinspired Servings 3 to 4 Ingredients 1 pound extra firm or firm tofu 1 cup soy sauce divided 12 cup white vinegar or rice vinegarThis Tofu StirFry with Broccoli and Mushrooms is a quick easy 30minute weeknight Dinner loaded with healthy vegetables Vegan and GF adaptable When life gets busy stirfry to the rescue It comes together so quickly and easily and in under 30 minutes youll have
something healthy on the table
Incorporating more plant-based meals into your diet doesn't mean sacrificing flavor or satisfaction. This spicy vegan tofu stir-fry proves just that. With its quick and easy preparation, burst of flavors, and wholesome ingredients, it is a testament to the endless possibilities of plant-based cooking. So gather your ingredients, fire up your skillet, and let your taste buds embark on a journey of deliciousness.