===
There is something undeniably special about indulging in a warm, gooey brownie straight from the oven. Whether you enjoy them as a comforting treat or a luxurious dessert, homemade brownies are the epitome of fudgy and chewy perfection. With their rich chocolatey flavor and melt-in-your-mouth texture, these delectable treats are simply irresistible. In this article, we will explore the secrets to creating the ultimate homemade brownies and share some heavenly recipes that are bound to satisfy even the most discerning chocolate lover.
The Ultimate Homemade Brownies: Decadent and Irresistible
When it comes to homemade brownies, nothing beats the satisfaction of creating a batch from scratch. Unlike store-bought varieties, homemade brownies offer full control over the ingredients, ensuring a truly decadent and indulgent experience. From the moment you mix the batter to the first bite, these brownies are designed to be a luxurious treat that will leave you craving for more.
One key factor in achieving the ultimate homemade brownies is the quality of ingredients. Opt for premium cocoa powder and high-quality chocolate to ensure an intense and rich chocolate flavor. Additionally, using real butter instead of margarine adds a creamy richness to the texture, making the brownies even more luscious.
Another essential aspect of the ultimate homemade brownie is the precise balance between fudginess and chewiness. Achieving this delicate balance comes down to the cooking time and temperature. A shorter baking time will result in fudgier brownies, while a slightly longer one will yield a chewier texture. Experimenting with different baking times can help you find the perfect consistency that suits your taste.
Achieving Fudgy and Chewy Perfection: Tips and Tricks
Creating brownies that are both fudgy and chewy requires a few tricks to master. One technique to achieve fudgy perfection is to slightly underbake the brownies. This ensures a moist and dense interior that will simply melt in your mouth. A toothpick inserted into the center should come out with a few moist crumbs, indicating that the brownies are perfectly cooked.
To enhance the chewiness of your homemade brownies, consider incorporating ingredients like nuts or caramel. Chopped walnuts or pecans not only add a delightful crunchy texture but also provide a contrast to the rich chocolatey goodness. Swirling caramel sauce into the brownie batter before baking creates pockets of gooey caramel that make each bite a heavenly delight.
==OUTRO:==
Indulge Your Senses with these Heavenly Homemade Brownie Recipes
Now that you know the secrets to creating the ultimate homemade brownies, it's time to put your skills to the test with some irresistible recipes. Whether you prefer classic fudgy brownies, a touch of mint, or a decadent peanut butter twist, there's a recipe for everyone. The possibilities are endless, and each variation promises to be a mouthwatering experience.
For the chocolate purists, a recipe that combines both cocoa powder and melted chocolate creates an intense and luxurious brownie that will satisfy even the most discerning palates. If you're a fan of the classic combination of chocolate and mint, try a recipe that incorporates a layer of mint-flavored cream cheese for an extra burst of freshness.
For those who crave a creamy and nutty experience, a peanut butter brownie recipe is the way to go. Swirling creamy peanut butter into the brownie batter creates a delightful marriage of flavors that will leave you wanting more.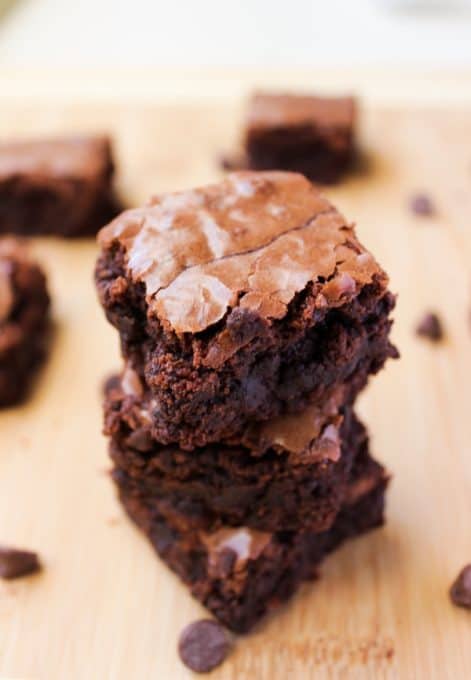 Adjust the oven rack to the lower third position and preheat oven to 350F 177C Line the bottom and sides of a 99inch square baking pan with aluminum foil or parchment leaving an overhang on all sides Set aside Whisk the granulated and brown sugars into the cooled chocolatebutter mixturePerfect Brownies 35 comments 13 reviews Jump to Recipe Pin We love this easy nofuss brownies recipe made with cocoa powder eggs and brown sugar These homemade brownies are fudgy and gooey in the middle and chewy around the edges We love them Jump to the No Fuss Brownies RecipePreheat oven to 350F Line a square 9x9quot baking dish with a parchment paper sling or spray with baking spray In a large microwavesafe bowl combine the bittersweet chocolate and butter Microwave on high in 2030 second bursts stirring
well between bursts of heat until melted and smooth Whisk in cocoa powderDirections Preheat the oven to 325 degrees Line an 88 square baking pan with parchment paper leaving an extra two inches over the sides for easy removal of the brownies whey they have finished baking Lightly spray or butter the other exposed sides of the pan Set the pan aside until the batter is readyThese brownies are made in one bowl with melted chocolate giving you thick chewy homemade brownies that are even better the second day Brownies are always a favorite so make sure to check out my Cake Mix Brownies and my MampMs Brownies Table of Contents Want to save this recipePreheat oven to 350F with rack on lower middle position Generously spray an 8inch baking dish with nonstick cooking spray Set aside In a bowl whisk
together flour cocoa powder and kosher salt Set aside In a microwavable bowl melt butter in microwave in 20 second increments until just meltedShare 5 Tweet Pin 818 This recipe isnt called The Worlds Fudgiest Homemade Brownies for no reason With a crisp crackly top and a gooey center that has all the right amounts of chewy these are seriously the best brownies ever They just melt right in your mouth Dangerously delicious Table of Contents Fudgy Homemade Browniesby Jamie Silva Indulge in irresistible chewy fudgy brownies with crackly tops and crispy edges These decadent treats are the epitome of chocolatey Perfection You and your family won39t get enough of these super fudgy brownies that you can make all in one bowl You39ll never buy another box mix again This post may contain affiliates
No matter which recipe you choose, making homemade brownies is a rewarding and enjoyable process. So put on your apron, gather your ingredients, and get ready to embark on a delicious adventure. Once you master the art of creating irresistible homemade brownies, you'll never look at store-bought ones the same way again.